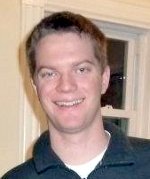 Welcome!
My professional name is Michael C. Hughes, but everybody calls me Mike.
I'm a PhD student in Computer Science at Brown University.
I'm currently entering my 3rd year (fall 2012), advised by Erik Sudderth.
For more about me, check out my personal website or my Google Scholar profile.
Please feel free to contact me.
About This Blog
I maintain this blog to discuss machine learning and computer vision.  Within machine learning, I'm broadly interested in
Bayesian nonparametrics
Topic models
Time series models
Markov Chain Monte Carlo methods (MCMC)
Variational Bayesian inference (especially fast, online approaches)
Within computer vision, my favorite topics are
video understanding and activity recognition
scene understanding
More About Me
Outside of computer science, I enjoy hiking, kayaking, fishing, and other adventures in the great outdoors.